The Last Con by Zachary Bartels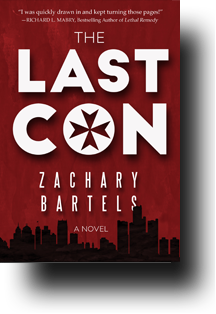 Rule #1: You don't grift the Illuminati.
Fletcher Doyle is about to break Rule #1.
Former con man Fletcher Doyle is finally home after six years in the pen. He's working a menial job, regaining his bearings in the world, and trying to revive his relationships with his wife and twelve-year-old daughter. No easy feat.

But when Fletcher and his family go on a mission trip to Detroit—in the company of the condescending church leader who also happens to be his landlord—Fletcher finds his old life waiting for him. Within hours of arriving in the city, he's been blackmailed into doing a job for a mysterious criminal who calls himself The Alchemist.

A series of relics hidden by the Knights of Malta, as ancient as they are priceless, are in the sights of The Alchemist. What he needs is a gifted grifter with a background in ecclesiastical history . . . what he needs is Fletcher Doyle.

Between hiding his reawakened criminal life from his wife and trying to hide her from their relentless landlord, Fletcher is ready to give up. But when his family is drawn into the dangerous world he can't shake, Fletcher is forced to rely on his years in the game to save the only people who mean more to him than the biggest con in history.